One more step...
Please fill out the information below so one of our qualified representatives can give you the most accurate quote for your home security needs.
---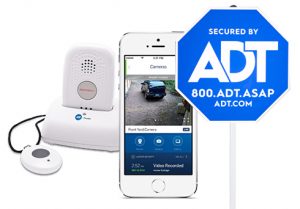 Over 143 Years of ADT Remarkable History
The #1 Security Provider in America has remarkable history, which began with a stock ticker. Check out the over the 143 years of ADT  history.
ADT is the largest security company in the United States and Canada, serving over 8 million customers.
As of 2013,  ADT held 25% market share of the residential market and 13% of the small business market in the US. ADT maintains five monitoring stations in the United States and one in Canada
ADT has an authorized dealer program. Under this program, independent dealers offer security system installations, which are then monitored by ADT. Some ADT Authorized Dealers use similar DSC, Honeywell/Ademco products as installed by ADT, while other dealers utilize GE or ITI products.
Whether a customer purchases ADT monitoring services directly from ADT or through an authorized dealer, a monitoring contract is required.
ADT Inc., formerly The ADT Corporation, is an American company that provides residential and small business electronic security, fire protection, and other related alarm monitoring services in 35 countries. The corporate head office is located in Boca Raton, Florida. In February 2016, the company was acquired by Apollo Global Management for $6.9 billion in a leveraged buyout.
Check out the timeline below to learn more about the history of ADT .
1874 – American District Telegraph (ADT) is formed using the technologies of Samuel F. B. Morse and Alfred Vail – the telegraph. It is a precursor to the current day ADT. Three years later, the president of Gold and Stock Telegraph Company woke up to a burglar in his home, which inspired him to create a telegraph-based alert system. This system eventually connected 50 of his neighbors to a central station where all the alert boxes were monitored. There were many small telegraph delivery companies in the United States in the 19th century.
1880s – Messaging is ADT's primary function. Call Boxes – electronic signal devices – are invented and allow ADT to develop its messaging service into an interactive communication system between night watchmen and police and fire officials.
1890s – Call Box technology advances and multi-signal electric protection systems allow watchmen to notify ADT offices of a building's security at scheduled times each night. The electric signal service is available in 50 towns and messenger services are available at more than 500 locations.
1901 – ADT is incorporated as a subsidiary of Western Union. Each of ADT's 57 district companies grew independently with varying systems, equipment and operating practices. The newly-formed company begins to remedy this problem by separating the messenger service and signal business. The signal business grows into the modern day ADT.
1909 – Western Union is acquired by AT&T changing the company's organizational structure. ADT now concentrates solely on the signal business.
1910-1930 – Technical advancements contribute to the growth of ADT and the company invests heavily in its burglar, holdup and fire alarm systems. ADT security becomes a leader in its field.
War Years – The war's depletion of domestic manpower bolsters the need for automatic signals to notify authorities of fires and break-ins. Due to ADT's integrated systems and services, the company is in a natural position to create the first automated alarm system. ADT develops the Teletherm automatic fire detection system and the Telewave automatic intrusion system.
1969 – ADT becomes a publicly-owned company by listing its stock on the New York Stock Exchange.
1970s – Technology development is taking off in America and ADT is in the front of the pack. The company unveils its first solid-state device and the installation of the first large, two-way multiplex proprietary system. Following these advancements is the ADT automated Central Station – a precursor to today's integrated Customer Monitoring Center network.
1974 – ADT celebrates is 100th birthday. The old Call Boxes are gone and sophisticated micro-computer-based security systems are in place.
1980s – ADT customers of the 1980s witness the debut of the Unimode fire system, the CentraScan computer-based security system, and the Safewatch residential system. ADT also officially introduces central station monitoring, which becomes the heart of its business.
1987 – ADT is purchased by the Hawley Group, Ltd. and renamed ADT Security Systems, Inc. The U.S. headquarters are moved from New York, N.Y. to Parsippany, N.J.
Early 1990s – The nineties ushered in such groundbreaking product lines as the wireless Safewatch system, the integrated Focus system, and a variety of access control and closed circuit television products.
Mid 1990s – ADT hits a milestone when it welcomes its 1 millionth customer. In 1996, the company changes its name to ADT Security Services, Inc., and relocates to Boca Raton, Fla.
1998 – ADT is acquired by Tyco International Ltd. The company's residential and commercial coverage now reaches into 230 major U.S. markets.
2009 – ADT Security maintains its commitment to providing the most advanced security services and unrivaled customer service.
In early 2010, Tyco International announced that it was acquiring Brink's Home Security Holdings (operating as Broadview Security) and was merging the company with its ADT brand name in a transaction valued at $2.0 billion. The transaction, which was finalized and closed in mid-2010, combined the #1 and #2 security companies in North America, adding Broadview's 1.3 million customer accounts and $565 million in annual recurring revenue to ADT's existing customer base of 7.4 million accounts and $3 billion in annual revenue.
In February 2016, Apollo Global Management acquired ADT for nearly $7 billion and merged it with another home security firm, Protection 1. The purchase price represented a premium of approximately 56 percent over ADT's closing share price on February 12, 2016 and, when combined with Protection 1, represented an aggregate transaction value of approximately $15 billion.
Products and Services
Home Security Systems (including Fire and Life Safety)
Home Automation Services
Carbon Monoxide Detection
Cybersecurity
Remote Access and Automatic Door Locks
Custom Home Security Systems (including Fire and Life Safety)
Home Health and Companion Systems
Home Video Surveillance
Home Remote Interactive Management & Automation Systems
Business Intrusion Detection
Business Video Surveillance
Business Electronic Access Control
Business Remote Interactive Management & Automation Systems
All County Security Solutions is a local home security company located in Philadelphia and proudly serving the entirety of New Jersey, New York and Pennsylvania with highly qualified specialists. All County Security Solutions is a local ADT authorized dealer.
For over 150 years, ADT has made the security of our customers our top priority. Today, more than 18,000 professionals in over 200 locations throughout the U.S. and Canada ensure that our 8 million customers stay as safe and secure as possible.