One more step...
Please fill out the information below so one of our qualified representatives can give you the most accurate quote for your home security needs.
---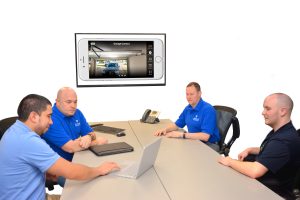 How to Help Protect Your Home. ADT Monitoring. The Leading Choice.
When homeowners need a dependable home security solution, they turn to ADT. ADT is the largest and the oldest security company in the United States and Canada, serving over 8 million customers. ADT offers best-in-class equipment and 24/7 monitoring to keep your home and family safe at all times. What exactly sets them apart from the rest? Read about ADT's standout qualities below.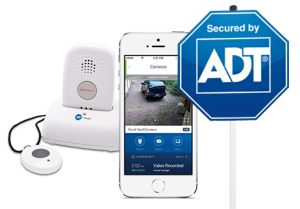 7  Reasons  why ADT  is the Best Home Security Option
1 – Leading Equipment
ADT's cutting-edge security equipment uses the latest technology to keep your home safe. Select a user-friendly digital keypad to control who enters your home or call for help at the touch of a button. Coupled with entryway contacts on your doors and windows, the keypad will sound a high-decibel alarm at the first sign of intrusion. Interior motion detectors also alert you of unwanted intruders but are advanced enough to prevent false alarms caused by pets. Backup batteries provide up to 12 hours of coverage after losing electricity. You can also use wireless keychain remotes to arm, disarm, hit the panic button on your home alarm system. These are just a few of the leading-class solutions available through ADT, but there are many more to choose from.
2 – All-Around Safety
The ADT promise doesn't just safeguard your home against theft and intrusions. Their line of solutions is designed to protect against any potential security threats. Keep your home and family safe in as many ways as possible. Choose ADT's fire and carbon monoxide detection solutions to prevent potentially deadly disasters.
3 – Round-the-Clock Monitoring
ADT has fully-operated monitoring centers throughout the U.S. and Canada.  Their teams oversee the safety of your home round-the-clock. It doesn't matter if it's a holiday or the middle of the night – your home is always protected with ADT.
When your alarm goes off, an ADT monitoring professional will contact you within seconds. If an emergency warrants help from first responders, the professional will alert local authorities right away. ADT is, therefore, the best way to ensure assistance arrives promptly to your home in potentially dangerous situations.
4 – Wireless Solutions
The home alarm systems of previous decades were cumbersome and unattractive. The way ADT protect your home is totally  different. Its modern solutions are sleek and compact. You won't have to worry about tangled messes or unsightly wires running around your doors and windows. Everything is wireless, so you receive leading home security protection without any mess.
5 – Options for Every Homeowner
ADT's security solutions are customizable to fit with varying needs, preferences, and budgets. Now, homeowners can take their home security to the next level through ADT Pulse®. This advanced system gives you the power to control your alarm system, temperature, and additional security settings at any place or time. Watch your home security feed in real-time, and receive instant alerts to stay informed about your home's safety even when you're not home.
6 – 150+ Years of Experience
With experience comes knowledge and expertise. ADT is proud to be the longest-running security systems provider in the U.S. Their first Customer Monitoring System dates back to the  1880s, and they have been providing industry-leading solutions and services ever since.
7 – Local Support
Lastly, ADT has authorized dealers in communities all across the U.S. This gives you the high-quality protection with the level of support only a local security company can provide.
Homeowners in New Jersey, New York, and Pennsylvania trust the ADT authorized dealer  All County Security, the area's premier ADT authorized dealer, with their home protection. They proudly have 40 years of combined industry experience, a commitment to the highest standards in customer service, and a range of outstanding security solutions to choose from. Request a quote from All County Security online or by calling (844)252-7611